Children's Play: "Mom via Skype"
August 19, 2022 @ 7:00 pm
$25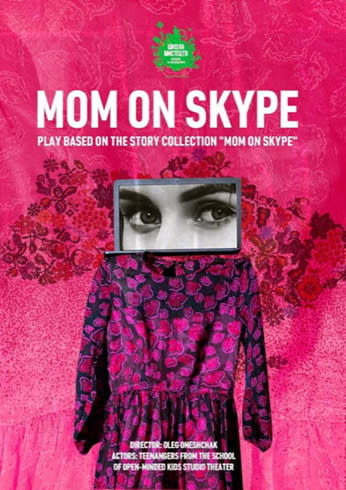 HELP UKRAINIAN CHILDREN SUPPORT UKRAINE:
YOUNGSTERS' CRIES FOR SAFER SKIES
This play was created by a group of teenage actors from the Lviv, Ukraine theater studio "School of Arts of the Free and Caring", directed by Oleg Oneshchak, based on the book of the same name "Mom via Skype". The story raises the irritating and ambiguous topic of social orphanhood as a consequence of labor migration and, more broadly, the communication gap between parents and children.
The premiere of the play "Mom via Skype" took place in Lviv on April 26, 2022 in a shelter. Since Russia's unprovoked invasion of Ukraine, this play has evolved into a different context and different interpretations. The teenagers who were preparing and rehearsing for the play in January were very much affected by the onset of the armed conflict. When they heard of the opportunity to take part in the play, their eyes lit up and there was a great desire to somehow help the Ukrainian armed forces toward their goal of achieving peace in their homeland. Thus, the play "Mom via Skype" gained missionary context.
The idea to go on a tour in Europe, and later to the United States, arose after an invitation from the Irondale Theater in Brooklyn, New York.
The eight Ukrainian youngsters, aged 7–14, perform a play and raise funds for the Ukrainian military with their ultimate goal being to purchase a fighter jet. Suggested donation is $25. Donations can also be made online buymeafighterjet.com.
We would like to acknowledge and thank the Irondale Theater in Brooklyn, NY and The Ukrainian National Home, Hartford, CT for their support.