Webinar: The Office of the Immigration Detention Ombudsman
December 20, 2022 @ 1:00 pm

-

2:00 pm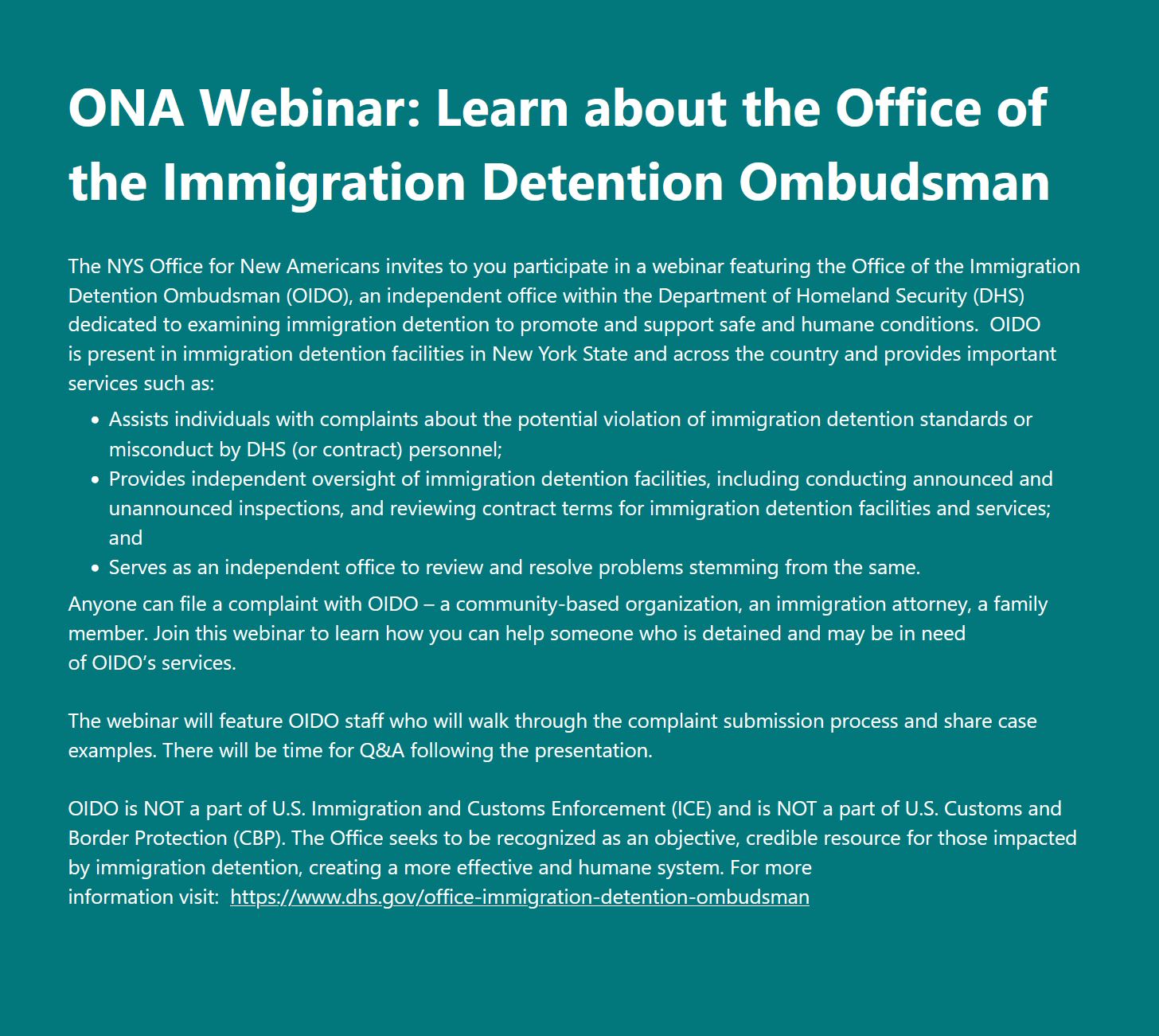 The NYS Office for New Americans (ONA) invites you to participate in a webinar featuring the Office of the Immigration Detention Ombudsman (OIDO), an independent office within the Department of Homeland Security (DHS) dedicated to examining immigration detention to promote and support safe and humane conditions.  OIDO is present in immigration detention facilities in New York State and across the country and provides important services such as:
Assists individuals with complaints about the potential violation of immigration detention standards or misconduct by DHS (or contract) personnel;
Provides independent oversight of immigration detention facilities, including conducting announced and unannounced inspections, and reviewing contract terms for immigration detention facilities and services; and
Serves as an independent office to review and resolve problems stemming from the same.
Anyone can file a complaint with OIDO – a community-based organization, an immigration attorney, a family member. Join this webinar to learn how you can help someone who is detained and may be in need of OIDO's services.
The webinar will feature OIDO staff who will walk through the complaint submission process and share case examples. There will be time for Q&A following the presentation.
OIDO is NOT a part of U.S. Immigration and Customs Enforcement (ICE) and is NOT a part of U.S. Customs and Border Protection (CBP). The Office seeks to be recognized as an objective, credible resource for those impacted by immigration detention, creating a more effective and humane system. For more information visit:  www.dhs.gov/office-immigration-detention-ombudsman